Welcome to Destin

Okaloosa County's Destin
Halfway between the two starting points of the Emerald Coast, Pensacola, and
Panama City Beach
, sits Destin, one of the world's most well-known vacation getaways. Starting as a small fishing village, Destin has grown into a full-fledged city full of high-rise buildings, opulent hotels, and a plethora of tourist attractions. Hosting everything one expects from a summer getaway, such as fun out on the water, beachside bars, golf courses, pastel-colored buildings, and even a waterpark in
Big Kahuna's
, the idea of boredom within the city limits of Destin is a strange one. Homes in this beach paradise range from modest single-family homes, beachfront condos, and massive luxury properties, as Destin is a place for everyone. With
Fort Walton Beach
to the west and
Miramar Beach
to the east, this is a city where the young and old, the rich and poor, the travelers from all places international and Americans all come together in celebration of one thing: an undying love for Florida's Gulf Coast.
In Destin, the fun never stops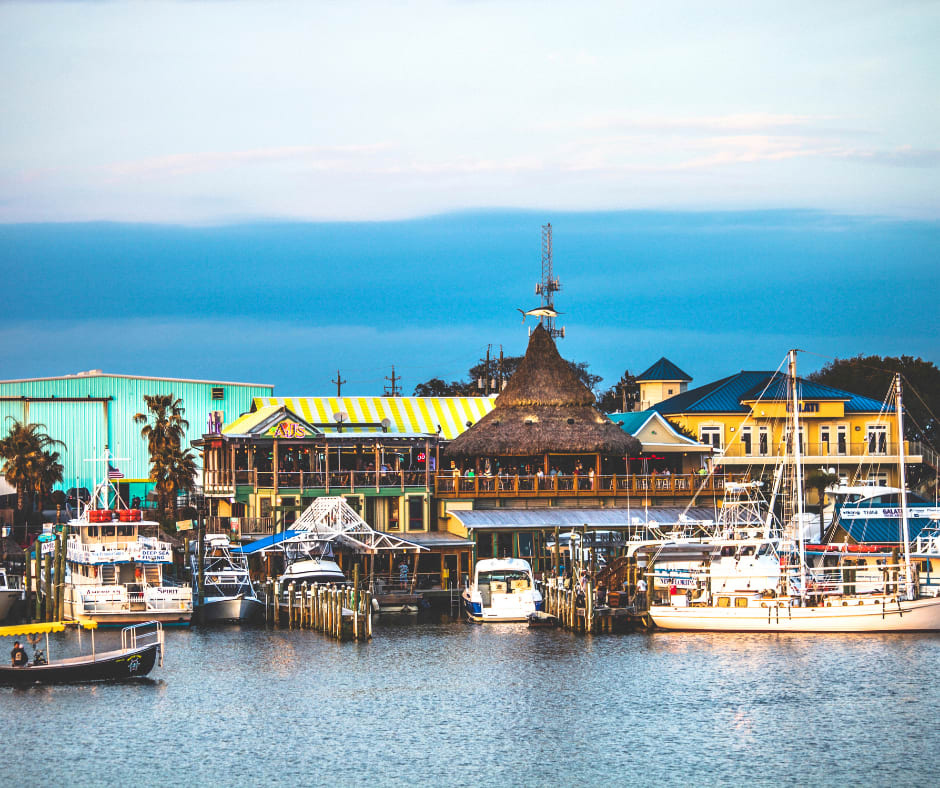 Natural Beauty Famous The World Over
With Choctawhatchee Bay to its north and Emerald Coast to its south, Destin has no shortage of places to swim, surf, fish, or hop on a boat, and that's not even counting the fun offered at the never-ending party constantly happening at Crab Island. If you're looking for a more calm day amongst the waves,
Henderson Beach State Park
is a perfect place to get in touch with nature without making it such a social affair. Small lakes, such as Four Prong Lake, litter Destin's landscape, bringing a gorgeous respite from its many hotels, restaurants, and shopping centers. Known as the world's luckiest fishing village, when you take into consideration the weather, the scenery, the shopping, golf, and fine cuisine, you realize that it probably is.
Fun As Endless As The Horizon
The amount of fun waiting to be had in Destin is nothing short of staggering. Here, arcades, mini golf courses, waterslides, and go-karts are as plentiful as fast food restaurants in other cities. Visitors and residents here do it all.
"
It's Tuesday, why not hop on a boat for some deep-sea fishing or head to the perpetual party at Crab Island
."
This is a normal thought in Destin, as it should be.
Boasting both an outlet mall and an outdoor high-end shopping plaza, even beyond these galleries, if you need anything from a fancy new designer dress to a new swimsuit, a variety of beach shops and high-end boutiques are scattered across the city. When it comes to dining options, Destin has a little bit of everything. Classic American eateries like
The Local Market
or
The Donut Hole
, family-friendly restaurants like
Sealand
or
McGuire's Pub
,
and even fine dining with the likes of
Ruth's Chris
or
Louisiana Lagniappe
are surrounded by ice cream stands, burger joints, and other Americana sure to scratch that nostalgia itch. This wonderful city has never forgotten its roots as a fishing village, but that's part of Destin's charm; it is a light years ahead of most of the country with its unique mixture of convenience, natural beauty, and luxury options, but still harkens back to a simpler time.
Destin really may be the world's luckiest fishing village